NR 4
Process in Artistic Research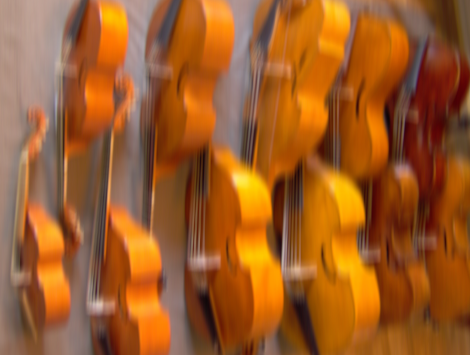 Stream - Whirpool - Process
As a musician, my experience of artistic process has had several phases. On one hand, as an orchestra musician I've experienced strong emotionally charged concerts, where every performer lives the performance intensely, and on the other hand, different conductors specialized on period music gave new ideas for illuminating orchestral scores. Both awoke in me the need to search for new ways of working to realize my musicianship. Working with specialists in old music provided further new vistas and signposts for potential directions.
Inspired by these influences, I began to intimate myself with the secrets of baroque cello and the viola da gamba, although any satisfaction was actually more difficult to achieve than previously as an ordinary cello player. On occasions I experienced flashes of a better way to perform certain significant pieces, such as Bach's series for the cello, and encouraged by these glimpses I pursued my goal for years. I did feel though that the attainment of a satisfactory performance always moved further away – I also needed to develop tolerance for imperfection.
I had heard of baryton, an instrument related to the viola da gamba, and became very excited about it. I did background research in order to know more about the baryton, and in the end I gained access to one instrument. The possibility for doctoral research opened up as I passed the examination test of the DocMus-doctoral school with the baryton, planned a series of concerts and attached a summary of my background research as a research plan for the written part of the thesis. I was accepted to the doctoral program after I agreed to add arpeggione, a guitar-related instrument, to my research. This addition seemed artificial at first, as it did not relate to the topic. However, broadening the base of the research project in this way had no ill effects. The doctoral studies provided an excellent opportunity to make all these plans come true as thoroughly as possible.
What has happened in this artistic process that has taken half a lifetime? My taste has developed to higher discernment, to appreciate different timbres of sound. My sound ideals value solutions that bring out translucency and independent lines. Nowadays, work on a piece of music includes not only technical mastery but research on the background of the work and its history. We can ask, was the satisfaction ever attained? I can answer that with considerably improved skills it is possible to get much closer, even though imperfections still have to be tolerated. They may even act as a catalyst for something new. Perhaps something electroacoustic?
This is my first season as a member of the Ruukku editorial board, and as an editor of this issue together with Annette Arlander. My past doctoral studies in the DocMus-doctoral school in Sibelius Academy of the University of the Arts Helsinki, and all tasks related to publication after that, have provided me with a good basis for journal editing work – fortunately with Annette I have been able to learn many practicalities about creating Ruukku. For that, many thanks to her.
Markus Kuikka
Processes can be examined in relation to a starting point or a destination. Here we might as well begin from the call to this fourth issue of Ruukku. In the call we noted that articulating and opening up artistic processes has been considered one of the main aims of artistic research. Since the 1960s "process" has been one of the magic words of contemporary art, with works of art that transform and evolve through time. Various processes are an inseparable part of the practice of art and research. In performing arts, process is essential as the artist's skill and understanding grows and accumulates in an embodied way. We might speak of encountering yet unknown strata, or in Foucault's sense, an archeology of skill.
We asked, for the sake of polemics, whether process was something the artist relies on when he no longer knows what he is doing. Is process description part of the broad mainstream of artistic research or an instrument of knowledge production for the ambitious artist-researcher? Can process become the medium of research? And what kind of processes are we building around artistic research?
The call was answered in the form of brief insertions, or voices as we call them, and in detailed research expositions and project descriptions.
In his text, Juha Varto emphasizes that the specificity of artistic research is not in the author but in the methods. He underlines that artistic research ought to be defined as the research of reality with methods that arise from artistic activity. In contrast, individual artistic processes are not really interesting for research. When the attention is shifted to the author's artistic process, the result is randomness born out of randomness, which may be interesting artistically but leads nowhere in terms of methods.
Eeva Anttila writes about the changing understanding of process; we have moved from phasing and quality control towards an understanding of emergence. When the human capacity to assign meanings is combined with the serendipity of the material world, it becomes a part of the tangle of an unpredictable chain of events.
Riikka Stewen discusses the centrality of process in contemporary art. In process art that followed minimalism, the continuous change and the temporal nature of experience became emphasized. Stewen points out Kaprow's thoughts on happenings, the simultaneity of art and non-art, and especially the notion of the definitely unfinished work, inherited from Duchamp. The artwork is necessarily only an incomplete execution or a translation of an intuitive idea.
Anu Vehviläinen writes about the unconscious in the artistic process and describes how her first understanding of musical process was simply to think often about music and to produce it in different ways. She examines emotions during the process of preparing a music performance and the significance of the artistic process in doctoral studies.
Pilvi Porkola tells the story of preparing a performance and offers six theses about artistic process with the heading "what will remain of us?". According to the theses 1) process signifies a chain of events, 2) process equals thinking, 3) not only the work of art, but the process, has a framework, 4) process is always in relation to time, 5) in a performance the emphasis on process often means involving audience participation and 6) processes leave traces.
The eight expositions in this issue of Ruukku cover various artistic fields, such as dance and performance, music, fine arts and literature. All the expositions are about artistic processes in one way or another. There are expositions that describe the already past process of making an artwork, whereas others discuss the beginnings of a process as it happens or attempt to understand it from the midst of it or from the side. Some of the writers are experienced researchers, while others work with their doctoral project. Half of the expositions are in Finnish, half in English. This issue does not include Swedish language expositions at all. There are also variations in the way the authors use the exposition format as a means of aesthetic communication. Some see the exposition as an opportunity to develop their work of art in a new medium, others display their artwork or its documentation as part of the exposition, and yet others present materials for an artwork yet to be. In some expositions the explanatory or descriptive text takes central position.
Emma Cocker, Nikolaus Gansterer and Mariella Greil describe an artistic research process in its beginnings, presenting the starting points, assumptions and first experiments of the project Choreo-graphic Figures: Deviations from the Line that combines interaction between drawing, choreography and writing. The exposition is called Choreo-graphic Figures: Beginnings and Emergences.
Katja Hilevaara and Emily Orley rework a past performance in their exposition Making Making Matter: Paper as Paradox in Practice-as-Research, thinking about ways of bringing the ephemeral performance within academic discourse in a meaningful way. They ask how the making of artistic work could be made as significant as the documentation made afterwards?
Anna Einarsson's exposition, We Can Work It Out – Calibration As Artistic Method, describes her workshop-based method of working as part of the composition and production process of the opera Ps. Jag kommer snart hem! She uses the term calibration to describe the shared understanding that is produced by this working method.
Assi Karttunen's exposition is called Voiko samaan Seineen kahlata kahteen kertaan? – projektin esittely (Can one wade twice in the same Seine? – a project description). The exposition addresses how experiences and memories that relate to Paris, and the unusual concert environment, a gallery, were used as impulses in the preparatory work for a concert included in a series of concerts connected to particular cities produced by the working group Elysionin kedot [Fields of Elysion].
Marika Orenius discusses the process of working on a video art piece, with the working title Parousia, and the relation of this process to spatio-temporal thinking, and the social and political significances of corporeality and space-time, with emphasis on the connections between thinking and manual making. The title of the exposition is Keinuva käynti ja muutoksen tila. [Swinging walk or visit and the condition of change]
Lohdutusten Arkisto (An Archive of Consolation) is the title of Elina Saloranta's exposition, where she presents her video work, Voices of Consolation, based on the paintings of Vilhelm Hammershøi and the process of making the video. As the essay is structured into the various rooms of an apartment to reflect the structure of the work, she asks whether a research text could be constructed in the same manner as an image?
Hanna Kuusela, in her exposition Collaborative Processes and the Crisis of Attentiveness, uses her research project to ponder the problems of collaborative writing and of prioritising process over product. She is asking whether a collaboration- and process-centred view of art is a step towards openness and communality? Or is the process aesthetic merely a sign of art succumbing to capitalism, which demands a constant production of the new?
Lastly, Johanna Pentikäinen touches on the use of the notion of process in the context of writing in her exposition Miksi minun piti kirjoittaa juuri ruusuista? Autoritaarisuus, autenttisuus ja autoetnografisuus kirjoittamisessa. [Why did I have to write about roses? – Authoritarianism, authenticity and auto-ethnography in writing]. She considers the challenges in discovering one's writer's voice, using her own text, Miksi minun piti kirjoittaa juuri ruusuista? (Why did I have to write about roses?) as an example.
We thank all the writers of the voices and all devisers of the expositions. Special thanks go to the peer reviewers, both to those who have their abbreviated comments published alongside the expositions and to those who have declined to have their reviews made public. We now ask all interested readers to log in to the RC-platform and to continue the discussion by writing their own follow-up comments. We hope the process goes on...
Annette Arlander