NR 19
Making Artistic Research Public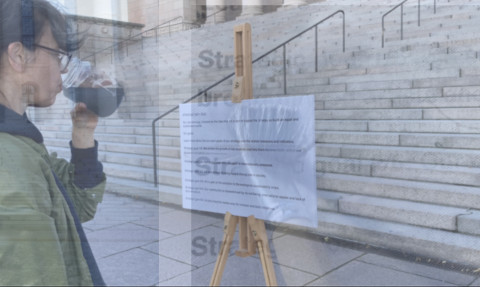 The public platforms of artistic research
Welcome to the 19th issue of RUUKKU devoted to artistic research and its publicity. Making something public is intrinsic to both art making and artistic research. This issue of RUUKKU focuses on the variety of ways artistic research is made public and on the effect of published artworks and research on their immediate surroundings, neighborhoods or environments. The call was opened for researchers and artists to ponder artistic research's relation to its publicity in its diversity, and the relevance of changes and traces that published artworks and artistic research leave in public space and vice versa.
To display a work in public means often to leave behind a singular piece or event in order to proceed further. It can also mean that development on one theme ceases and another begins. Clearly the occasion of publishing initiates reflection on how the work was received and leads to new approaches for proceeding with the research. Art and artistic research are not only made for the public; they are also informed by their own publicity.
The expositions in this issue show a variety of ways of relating to matters of publicity. Unexpected things like a courtyard, a residency, a graphic novel, a collaborative multispecies journey, or the artistic practice of removing became public platforms where artistic research happens. Addressing the public does not necessarily take the form of production, but it shows alternative experimental and experiential ways of relating to matters of publicity. In these expositions publishing is seen as a live model, a prototype for learning processes that develop in relationship with different facets of the concept of the public.
In the exposition "The communication intent in 'matéria disponível' ('available matter')", Rosinda Casais explores communication and community during the period of a CoVID-19 lock-down. To many, the lock-down brought both a feeling of senselessness to city life, but also a heightened need to observe the new situation and reflect on the changed status of our everyday environments. Casais began using a courtyard to communicate through artistic means, by placing material installations for others to experience and interact. This way, for Casais the lock-down did not only bring detachedness, but new kinds of presence, ways of sharing and interacting with a local public. The work begins to bring out the themes of common and individual memories and the notion of communication and media in the arts.
Alira Callaghan's exposition "Configuring the artist residency as a thinking, making, showing space" examines the particular nature of artist residency: half public and half private sphere, being in the midpoint between gallery and studio, as Callaghan says. She examines how the relation to time, public, and work itself is different in all of these spaces. Traditionally a studio is a space where progress happens, whereas a gallery is considered to be a place for showing the results, that is to say, the final work. Residency lies between these two, being considered as temporary and something semi-public, offering space for cycles of thinking, making and showing art.
In "Graphic Novel Clandestine Journal", Gian Luigi Biagini introduces a paper-printed graphic novel journal using images from urban interventions Biagini conducted previously. These interventions are subversive and often performed outside permissions, norms and bureaucracy of exhibitions and institutions. The graphic novel project further advances a critique of capitalism, institutional norms and practices through and around the avatar-character of Anartist, providing another angle for fictionalizing elements of the interventions.
Mia Seppälä's exposition's point of departure is the University of Art's strategy 2021-2030. Her exposition "Strategian Sisäistäminen" [Internalizing strategy] contains a video performance that is, in short, about internalizing University's strategy: in the performance she dilutes the strategy through a method of painting, dissolving the printed strategy into a liquid, and finally drinking it. In the video performance we see Seppälä perform in front of the Finnish Parliament. The exposition brings together several themes, of which most dominant are questions of power, art institutions and their publicly announced functions as well as the public space. What is the autonomy of the universities and the arts – who or what governs them? How is the publicly announced strategy in relation to the grassroots level, to the students and artists? How is power seen and can power see us?
In "Seeding Actions" by Polina Golovátina-Mora, Sunniva Skjøstad Hovde and Tone Pernille Østern the three authors invite the reader to a journey with multiple traces to be foreseen and to be discovered. In the credits of the exposition's core video the fourth author is listed, namely Trondheim Fjord. This exposition introduces a collaborative multispecies worlding practice that finds things already published – they only must be made visible. Making public is equal to sensibilize oneself and the others to the presence of things we encounter.
This thematic issue of RUUKKU anticipated the Artistic Research Network (EARN) – event with exhibition, talks and happenings taking place in Helsinki 27.–28.10. 2022. The exhibition is open until 13.11. Making Artistic Research Public RUUKKU issue is a part of this live event and exhibition.
Saara Hacklin, Tero Heikkinen, Denise Ziegler